Welcome and Thank You for Visiting!
Financial success doesn't happen by chance. It's about choice. Turning aspirations into actuality takes acumen, discipline and strategic planning.
Each decision you make and action you take will have a significant impact on your future financial circumstances. A good financial blueprint will lay out what you need to do today to achieve your goals tomorrow.
When planning for the future, realizing the need to take greater control over your financial life is the first step. Choosing someone with the ability and resources to best address those needs is the next. I am confident my experience, industry knowledge and dedication to my profession have given me the tools to become your trusted advisor.
As your Wealth Management Advisor, I will listen, clarify and help prioritize your goals and aspirations before developing a financial strategy designed to help you achieve your vision for the future.
I would be honored with the opportunity to meet you and begin strategizing to help achieve a lifetime of financial security for your personal or business goals.
- Jennie D. Derby, CFP®, CLU®, ChFC®
Let Jennie Derby and her team help you ensure your financial future is all you want it to be.
---
Strategizing Your Future
Making the choice to transform your aspirations into actuality is the first step to strategizing your financial success. Attaining a lifetime of financial security and clarity takes acumen, hard work, discipline and strategic financial planning
To help clients achieve their objectives, Jennie Derby works to serve as a friend and an advocate. Life's complexities leave little room for "standard" approaches, so Jennie uses a four-step approach in working with her clients:
Jennie Derby's planning process is unique – she starts at a different plane than other advisors. She starts above the planning horizon and focuses on helping you clarify your Mission, Vision, Values and Goals.
Then she focuses on the issues below the horizon – Strategies, Tactics and Tools.
By staying above the horizon and gaining clarity around your goals, Jennie can help you make wise choices about the solutions below the planning horizon.
Working in the best interests of her clients is Jennie's business, and she takes this role very seriously.
Whether you're concerned for your own planning needs, your family or your business, Jennie Derby can help you find the right answers.
Copyright 2016 The Legacy Companies, LLC. Concepts used in these materials used with permission from The Legacy Companies, LLC. Legacy Materials and Concepts are only made available to advisors in the Fee-Based Financial Planning program at Northwestern Mutual Wealth Management Company.
---
Accomplishments
Jennie Derby, CFP®, CLU®, ChFC®, CLTC has achieved the NAIFA Quality Award for 2013. This prestigious award is an indicator of the quality of service that Jennie continuously provides to her clients by demonstrating her commitment to exceptional:
Professionalism through education and earned designations
Adherence to the NAIFA code of ethis
Service to her industry association
Jennie Derby, CFP®, CLU®, ChFC®, CLTC is also a member of the premier Association of Financial Professionals, The Million Dollar Round Table. This international, independent association has more than 35,000 members, or less than 1%, of the world's most successful life insurance and financial services professionals from 476 companies in 76 nations and territories. MDRT members demonstrate exceptional professional knowledge, strict ethical conduct and outstanding client service. MDRT membership is recognized internationally as the standard of sales excellence in the life insurance and financial services business.
Each year, Business Leader honors the top women business leaders of the South through their Women Extraordinare Awards. Jennie has been named a 2011 winner as she demonstrates significant business achievement and community involvement.
For more information on Jennie's professional background, please click here.
---
A New Approach to Retirement Planning—Exclusively from Northwestern Mutual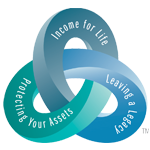 Imagine being confident that your income will last throughout your retirement years—despite changes in the economy or how long you live. Northwestern Mutual's retirement income planning process is designed to help provide you with a steady income stream for as long as you live. Learn more.
Jennie Derby works with her clients in every phase of retirement planning.
---
The Business Corner
If you own or operate a business, Jennie Derby recommends the following articles:
Click here to read additional articles.
With a focused expertise on the business owner, Jennie Derby can provide guidance for any stage of your business:
---